Event Recap: At the Breaking Point
Blog Post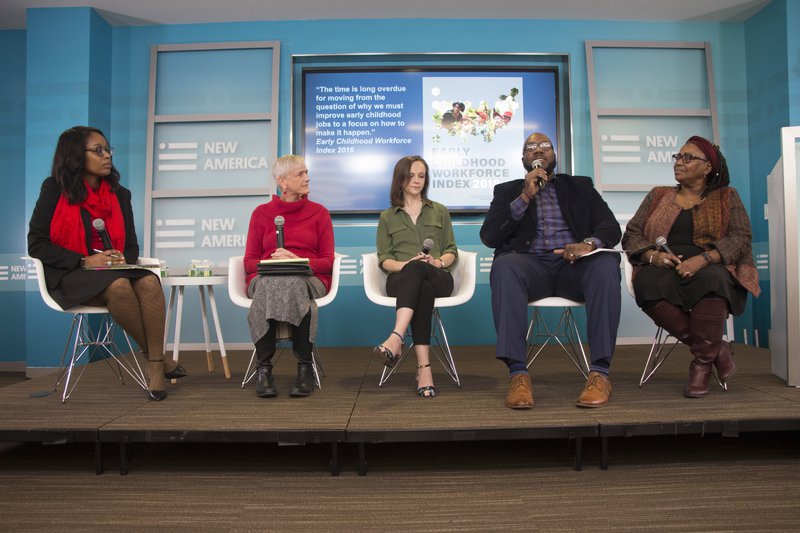 Nov. 26, 2018
Earlier this month, New America's Early & Elementary Education Policy team hosted an event that brought together early education leaders and researchers to explore teacher well-being and discuss strategies for better compensating and supporting early childhood educators. The event opened with remarks by program director Laura Bornfreund, a short video produced by New America that zooms in on the difficult realities of being a teacher in one Oakland, Ca. preschool, followed by two panel discussions.
The first panel included three of the leading researchers on early educator well-being. The panelists explained how low compensation and poor working conditions aggravate teacher well-being and negatively affect the quality of early learning programs. Dr. Kathleen Gallagher, Director of Research and Evaluation at the Buffett Early Childhood Institute at the University of Nebraska, discussed how high rates of stress and depression among early educators can make it more difficult for them to engage in responsive and warm interactions with young children that are crucial to their development. Gallagher shared research supporting teacher mindfulness as a potential solution. When analyzing teacher responses from the Pennsylvania Head Start Wellness Survey, her research team found "teacher mindfulness decreased their levels of depression, which improved their relationships with children." Gallagher shared additional research that aims to uncover what factors are associated with higher rates of depression, including those inside the workplace.
Rebecca Madill from Child Trends discussed findings from her recent report that examined teacher's psychological distress using 2012 National Survey of Early Care and Education (NSECE) data. The Child Trends team found that numerous formal supports were not associated with distress in teachers, such as class size and coaching. But they also found that three factors-- feeling respected, encouragement of teamwork, and stability of classroom assignments-- were inversely associated with psychological distress.
George Philipp, representing the Center for the Study of Child Care Employment (CSCCE) at UC Berkeley, discussed the importance of understanding teacher's needs as policymakers and leaders continue to increase expectations of them. Philipp explained how CSCCE uses the Supportive Environmental Quality Underlying Adult Learning (SEQUAL) tool to understand how work environments impact teacher experiences and ECE quality. The tool assesses factors like teaching supports, professional learning opportunities, economic well-being, and program leadership to under the daily challenges teachers face. Tools like this are essential for understanding how various factors inside and outside of the classroom contribute to teacher's well-being.
The three panelists agreed that teacher well-being is an under-researched area worthy of more discussion.
The second panel brought together state and local practitioners from Louisiana, Wisconsin, and the District of Columbia to discuss their approaches for supporting early childhood educators. Erin Carroll from the Louisiana Department of Education's Office of Early Childhood discussed how Louisiana offers refundable tax credits to supplement low wages of teachers and directors in publicly funded child care and Head Start centers. Carroll said, "We see our child care teachers making incredibly low wages, even in comparison to our public school pre-K teachers." Teachers who have been in the field for multiple years and earn higher levels of education are eligible for larger tax credits. (To learn more about the unique reforms happening around Louisiana's ECE workforce, check out our team's recent paper.)
Ruth Schmidt, Executive Director of the Wisconsin Early Childhood Association, explained how Wisconsin also has a wage supplement program to support early childhood educators based on tenure and education level. She said, "we've gotten really good at sort of layering on qualifications, standards, expectations of this workforce" and fortunately, Wisconsin also has T.E.A.C.H. Early Childhood Scholarships to help early childhood educators both afford and navigate higher education. Since the state implemented a new quality rating and improvement system in 2010 there has been a 125 percent increase in demand for scholarship dollars. Financing these policies continues to be a challenge for the state.
Jamal Berry, school director of Educare Washington, D.C., spoke about the importance of scholarships in providing teachers with a real pathway to enhance educational qualifications, sharing his personal higher education journey. He also discussed the barriers to staff wellness that he has seen throughout his career, with low compensation rising to the top of the list. Jacqueline Hines, DCAEYC board member and former early childhood educator, explained "When it comes to compensation, early childhood teachers are considered the babysitters." Changing this narrative so that ECE teachers are respected for their hard work and skills is a key step to improving well-being.
Infants and Toddlers